30 Jan

TECHLAHOMA OKC Networking Fair! Viewed as a Great Success!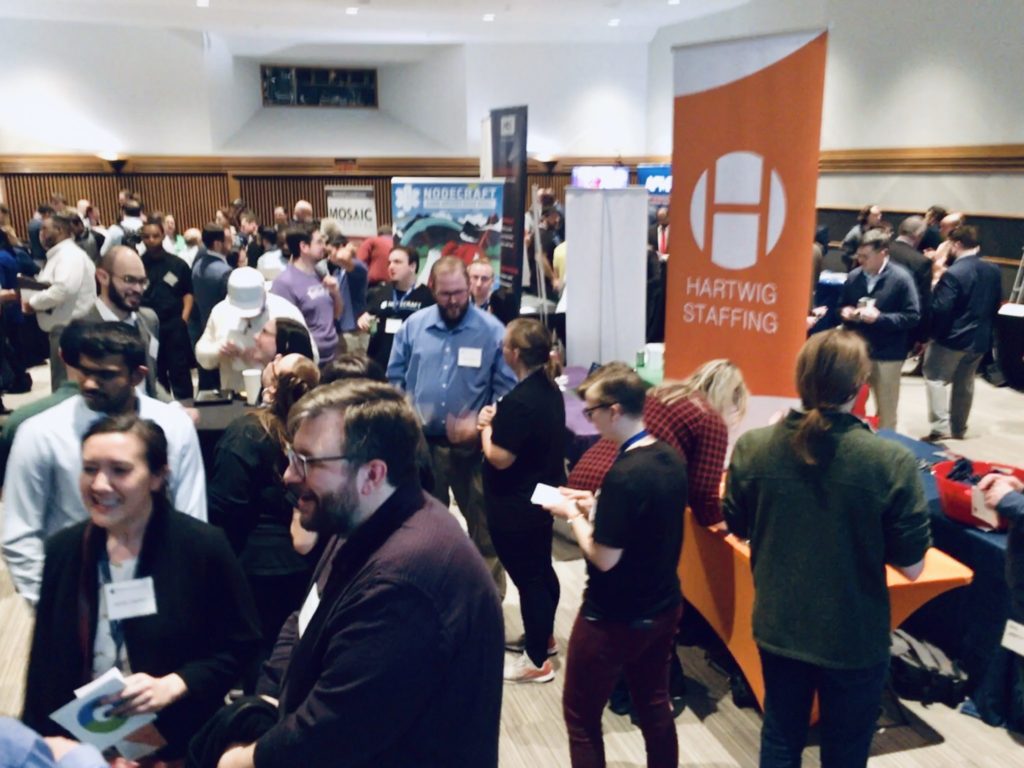 TECHLAHOMA recently held its Oklahoma City Networking Fair on the campus of 7725 Connect. According to TECHLAHOMA Event Coordinator Kenzie Myles, the purpose of the event was to provide an informal venue to connect Techlahoma members to local companies and each other. Tech professionals from around the state converged on the local tech-centric business park for an opportunity to mix and mingle with each other and visit with tech-oriented businesses and staffing firms. The volunteer organizers were expecting upwards of 180+ individuals who had RSVP'd but were thrilled to report they had an even greater turnout than they had forecasted. "Our social media push and referral network did a great job getting the word out for tonight's event. At our last networking event, we maybe had 75 people the whole evening. I believe at last count, we may have almost tripled that number. We are really thrilled with the great turnout," said Brent Greene, local Techlahoma volunteer and Marketing Director for RACK59 Data Center. RACK59 was the evening's venue host and one of 25 sponsors who set up an exhibit table for interaction with members of Oklahoma's tech community.
Tech professionals from across the state representing established local enterprise and various local tech startups were present in the crowd. As mentioned, 25 different sponsors ranging from tech-specific staffing/placement agencies to local growing software companies were on hand to visit with Oklahoma's growing tech talent pool. It's no secret that the tech talent is here.  According to a recent article by Zillow.com, Oklahoma City tops the list at #1 in the top 10 U.S. markets for tech growth prospects, followed by Kansas City, MO at #2, and our neighbors to the south in San Antonio, TX coming in at #6.
Event organizer Ryan Bupp a software developer and recent startup entrepreneur shared, "These sorts of tech-oriented events, local dev groups, and coding meetups seem to be the preferred hangouts for our tech talent in OKC. Our volunteer group for this event was organized and run by people who know the industry well. It's encouraging to us that staffing agencies and IT managers are finding this type of event a great way to meet and get to know the talent they are seeking."
The TECHLAHOMA Foundation is organized and run by local volunteers who operate and run the organization as a 501(c)3. For more information on the TECHLAHOMA Foundation and the many events they organize and host for the Oklahoma tech community, visit www.TECHLAHOMA.org.